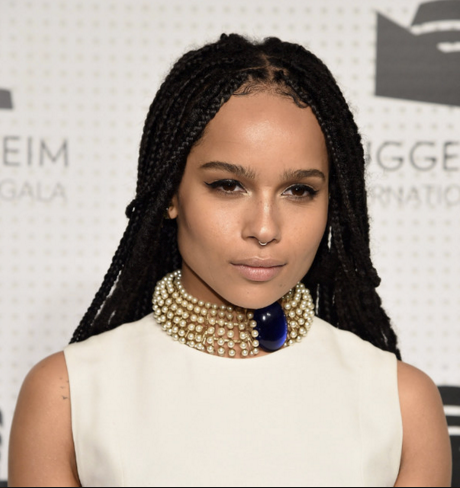 Zoë Kravitz or Zoe Isabella Kravitz is Lenny Kravitz's daughter to actress Lisa Bonnet. She was born on December 1, 1988 and she has been making it big in the movie industry. She has been in the latest and hottest comic based action movies like X-Men: First Class in 2011, Divergent and The Road Within in 2014, Madmax Fury Road, Dope, and Insurgent in 2015.
She also played roles in a long list of other movies starting from her debut in the 2007 films No Reservation as Charlotte and the Brave One as Chloe.  This year she is expected to continue her role as Beatrice Prior's best friend Christina in the last installment of the Divergent series, Allegiant.
Well known parents
Her sheer talent is quite expected because she's the product of two excellent artists. Lenny Kravitz is an incredible singer, writer, producer, instrumentalist actor and arranger all rolled into one. He is known for producing songs for iconic artists like Madonna and Aerosmith.
Lisa Bonet on the other hand has been made popular by her role in the Cosby Show as Denise Huxtable. She was only 19 when she took that role. She had a couple of supporting roles like in Will Smith's 1998 movie, Enemy of the State. This role was followed by other movie appearances from 2000 to 2008.
Her parents married back in 1987 but they later separated in 1993 when Zoe was just five years old. She stayed with her mom and they lived in Topanga Canyon. At 11, she lived with her father who resided in Miami.
Zoë Kravitz's acting career started way back in high school
As mentioned earlier, Zoe made a short appearance in Catherine Zeta Jones' and Aaron Eckhart's romance film No Reservations. Her first role is as a babysitter to Catherine's niece who was played by Abigail Breslin. This role was shortly followed by her prostitute character in the moving story of the vigilante, played by Jodie Foster who took the law into her own hand when her fiancé, played by Naveen Andrews got killed. She was still in high school when these two movies happened. She was about 19 when she landed these roles, just like her gifted momma.
She has inherited her father's gift in music
One of the perks of having a songwriter father is that you get to learn how to song write too. Zoë began making her own masterpieces when she was 16. She played alongside with Elevator Flight, a Philadelphia based band back in 2009. Her band played in the Southwest Music Festival. Along with acting she also enjoys her singing career. She performs sometimes with the Citizens Band. She also started another band, which was called Lolawolf when she stayed in LA while she filmed an exquisite movie called The Road Within. This movie is about a band of teenagers who had different medical issues and they went on a life changing adventure that made their bonds grow stronger.  Her newly formed band performed their first song in 2013 at the Mercury Lounge.