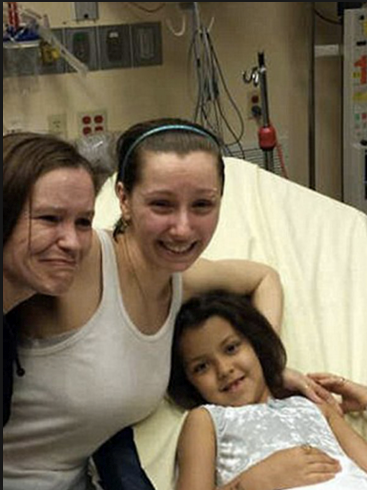 Amanda Berry's daughter, Jocelyn came to the world on a Christmas day in a place that they called a "house of horrors" in Cleveland, Ohio. Amanda gave birth during the time that her freedom was taken away from her by an alleged monster named Ariel Castro. Ariel kidnapped Amanda together with two other women, Gina and Michelle, and tortured them for 10 years. He locked them in chains, forced them to do horrible things and raped them whenever he wanted. The evil beat up Michelle a lot of times for her to miscarry her baby, but that's not what happened to Amanda. She did everything to make sure the baby she was carrying would be safe, like doing what her captor told her to do, preventing him from getting mad. She even reached for Ariel's hand and placed it on her stomach. That way, he would feel affectionate towards the baby, and would not beat her into a miscarriage.
Amanda described how she felt when she first laid her eyes on Jocelyn. She was very happy and amazed, and she said her baby was the most beautiful thing she has ever seen.
Jocelyn still lived a normal life
Shielding her daughter from the painful reality of their lives, Amanda set up a kindergarten decorated with colorful pictures and drawings and a bed full of stuff toys in the small room where they were imprisoned, and pretended to go to school with Jocelyn every morning. She wanted to give her daughter a 'normal life' as much as she could.
The monster relented. He bought school supplies that Amanda requested for Jocelyn. He brought Jocelyn to church occasionally, bought her toys and clothing, and even introduced her to his mother as the child of his girlfriend. The predator finally removed the rusty chains from the women when Amanda's daughter started to notice and ask about them. Amanda protected Jocelyn by telling her they were just bracelets.
Jocelyn turned out to be the key to her mom's freedom
After a long time, it was Jocelyn who noticed her daddy was not home with them. She told her mom, and Amanda knew it was their chance to escape. Her heart started pounding, and she told herself that she needed to do something. She grabbed her child and went to the front door to finally break free. They all managed to escape, and called 911 to ask for help.
Ariel was caught by the police and pleaded guilty. He was sentenced to life in prison, but he took his life by hanging himself in his cell after a month.
Moving forward
Amanda, just like the other moms, wakes up every morning and get her child ready for school. But what makes her different is that she's worried about what people will tell Jocelyn about her father. She's waiting for the right time to tell her daughter about what really happened. Amanda doesn't want it to affect Jocelyn negatively, and she's hoping that Jocelyn will grow to be a happy and successful woman.