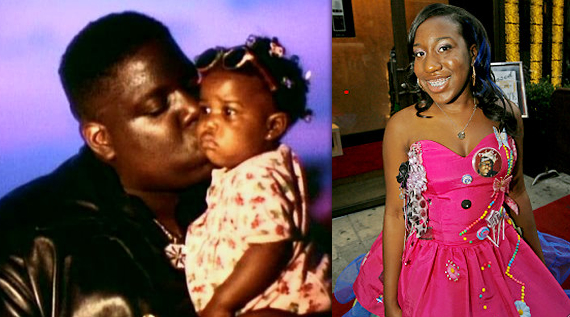 Christopher Wallace, or popularly recognized as Notorious B.I.G had two children. These are Christopher Wallace Jr. and T'yanna Wallace. Needless to say, Christopher Wallace daughter has grown so much. After almost 19 years, the murder of Notorious B.I.G in Los Angeles would still be fresh on the mind of his daughter. His legacy will continue not just in the music industry, but of course – in his own family. T'yanna Wallace was the offspring of Notorious with his then girlfriend, Jan Jackson. She was born on the 8th of August 1993. She was trying to make her own mark as a fashion designer.
In order to ponder more on business, she enrolled herself in Penn State University. Aside from her studies, she also pursued a part time job so that the she could save money. She said she became a part of the school cafeteria. This was said by her during interview in the year 2012. This served as the 15th death anniversary of her father. She added she might not need a job anymore. However, she considers herself independent all the time so – why not?
The fans of Notorious are still saddened by the fact that his murder is not solved yet. The mystery, even in this death anniversary is somehow troubling. Living with the reality though is the only option that the family of Biggie has. They cannot wallow in the past anymore.
She stated that when she was still young, not knowing was really bothering for her. She really wanted to know what was happening or going on. However, as time lapses, she started thinking. There are already changes in the street names. The same is also true with evidences. People even died ever since. She felt like thinking about the situation is no longer healthy. She just wants her father to rest in peace. That is the only option left here.
Even if Wallace passed away sooner than expected, she was still fortunate because someone stood by her as a father. This is courtesy of her stepfather who has always been there in times of need. She said this when asked about the feeling of not having her father on her side. She even added that she did not see anything as a problem here.
It might be surprising to know that she cannot recall any memories with her father. Despite this though, she is still grateful because there are people who made the memories of her dad alive. Her mother is also responsible for orienting her. The same is also true with Cease. She also have the entire Junior Mafia and Faith. These people tell her stories all the time. What is even good is the fact that she always feel one in those memories. This is a way for T'yanna to know her father more.
The legacy of Notorious will live by. His influence, most especially in the music industry, will never be forgotten nor escaped. His memories will always be talked about.